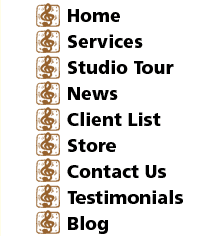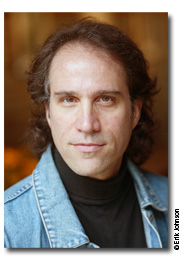 Ira Sakolsky
Co-owner/Producer/Composer/Engineer/Musician

Ira was born in Brooklyn, New York, and found his way to Connecticut in 1994, when he began an eight-year stint as resident composer/actor for National Theatre of the Deaf. He has written and performed scores for film, theater, video, and industrial shows as well as CDs and freelance entertainment.

Ira's music credits include composition and arrangement of the 2003 Grammy-Nominated CD 'The Christmas That Almost Wasn't', featuring John Lithgow; the 2004 Parent's Choice Award-winning CD 'The Troubadour's Tales'; music contributions to the Obie-nominated Off-Broadway play 'Hannah Senesh'; the music score for The Bushnell's production of 'The Curse Of Sleepy Hollow', starring Zelda Rubinstein (Poltergeist); and composition and engineering work for the promotion of 'A Wreath For Emmett Till' written by Marilyn Nelson, a Newbury Honor-winning poet published by Houghton-Mifflin Books. His 'Sarabande Song' has been licensed by Microsoft Corporation, Apple, Omnifone and Rdio. His composition 'The Nerd Song' was featured on Wolfman Jack's 'Doo-Wop Shop' radio program on WCBS-FM. Ira has also created industrial scores for Coca-Cola, Pepsi, Holiday Inn, and Arby's, as well as sound design and engineering for Casey Carle's 'Bubble Time! The Dawn of Undiluted Joy'. Ira received a special citation from the Romanian Embassy for his scoring work on Eugene Ionesco's 'Ionescapades', performed at the Library of Congress in Washington, D.C.

As a director, Ira's Off-Broadway adaptation of Norton Juster's The Phantom Tollbooth earned him the rights to produce a Broadway musical version of this children's favorite. His other directing/producing credits include a 'moving stage' version of the PBS-TV show Lomax the Hound of Music in collaboration with Sirius thinking and the Valley Railroad; The Cutting Room Floor, The Band Slayed On and Deadend Rodeo: The Buckin' Stops here, all part of the murder mystery series for the Essex Steam Train & Riverboat. He has also created the Fright Train show and the popular North Pole Express, now in it's 7th year for the Essex Steam Train. Ira founded the improvisational comedy troupe Comedy On Demand whose credits include Foxwoods Casino and the Florence Griswold Museum.

As an actor, Ira has worked in film, television, radio, Broadway, Off-Broadway, and regional theater. His background in improvisation came through his work with Chicago Second City co-founder/director Paul Sills

Ira's teaching credits include songwriting workshops forhospice and bereavement groups as well as improv and acting technique workshops for teachers, universities, schools, corporations, theatre groups, and a ten year teaching engagement with the Aaron Copeland Music and Arts Program for talented teens.

Ira owns the Riverway Recording Studio in East Haddam, founded in 2002 with his late wife Monica Sakolsky. Ira is a member of the National Academy of Recording Arts & Sciences, the Actor's Equity Association, The American Federation of Radio and Television Artists, the Screen Actors Guild and the Recording Academy. He received a B.F.A. and Honors in Acting from Purchase College.

For studio booking and information:
Email: ira@riverwaystudio.com
Ph: 860-873-3404